For many years, I have trusted Snopes.com. When my Dad circulates his "Glade air fresheners explode without warning while you sleep" warning emails, I refer him to Snopes where the "Urban Legends" are busted the way MythBusters do it on TV – with cold hard facts and evidence. Snopes has clarified thousands of scammy claims for us, helping to maintain clarifty in a see of deception. Until now? Has "you can trust Snopes.com" become an Urban Legend, too?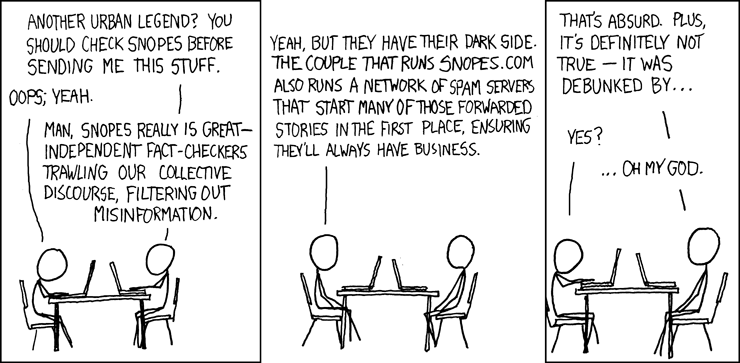 So anyway I Google'd "free 411" because I wondered why I didn't know about this service until now, and surprise! Snopes.com is right up there near the top of the rankings. Huh? Is this a scam? So I clicked through and read a hugely promotional article about Jingle Network's free411 service. It reads like an informercial!
"Claim: The phone number 1-800-FREE-411 offers free directory assistance service."
Status: True.
What follows is an advertorial for the free 411 service. Not only that, but the page is titled and has a header of "Free 411", and includes two direct backlinks to the Jingle networks website, with high quality anchor text and one word proximity to the word "free". The content itself is so salesy I was offended:
One of the many changes that has taken place in the telephone industry in the last few decades is that while phone companies once generally provided their local customers with free directory assistance (via the 411 phone number), in most cases telephone customers are now charged a fee (typically $1.00 or more) for each directory assistance call. Despite the charges, U.S. consumers continue to avail themselves of the 411 directory assistance service, placing about 6 billion such calls per year.
Now, however, an outfit called Jingle Networks is providing an alternative directory assistance service — and it's free. Users who call the toll-free number 1-800-FREE411 (or 1-800-373-3411) can navigate a nifty automated voice recognition system that asks for a location (city and state), type of listing (business, government, or residential), and name. Once the service has located an entry for the requested number, it reads the information aloud and offers the caller the option of connecting to the number by pressing a single number on his telephone keypad.
Add to that another 4 paragraphs of glowing endorsement including testimonial:
We made three separate trial calls to 1-800-FREE411 asking for information on different local businesses, and in each case the voice recognition system smoothly processed all our spoken information and correctly identified the businesses of interest. In only one trial out of the three were we presented with an audio advertisement.
The page even has meta keywords typical of snopes.com, except for the first few keywords which appear to be hand crafted for optimization:
< 

META

 name

=

"keywords" 

content

=

"free directory assistance, 411, 1-800-FREE-411, 1-800-373-3411...
Go ahead and look at other Snopes pages… they have the same set of keywords, all targeting urban myths and legends and snopes, except for those first 3 obviosuly promotional ones. Is Snopes abusing our trust? There is no "sponsored" notice, and the About Us page says this can't be:
We are not (and never have been) paid or provided with any other form of remuneration in exchange for writing about a particular topic.
Hey search marketers! If you're still trying to spam wikipedia I've got news for you. Start a rumor that the great thing you are about to introduce to the market is just a rumor, and contact Barbara and David Mikkelson about getting a super cool promotional page on Snopes.com saying Yes! it's true! Hard to believe, but they ARE bringing you this fabulous product! I can see it now… just two or three days after I publish this post, will there be a Snopes page proclaiming
"Claim: Mahaolo is Better than Google.

Status: True! Mahaloo is human edited spam! Human edited spam is better than machine edited spam!".
I kid. But to be fair, I did not intend to blog about this, but rather wrote a note to Snopes via their contact form. But when that form submission generated a 404 error, I decided to blog instead. Funny how that works. After all, if Snopes isn't maintaining the very channel they say is the only way to notify them of problems with their site, I have further reason to suspect foul play.